Be a world citizen!:
Looks like that quite a few people dropped the idea of becoming a
world citizen.
Today around 25 flats are available for booking at
Blue Ridge, Hinjewadi.
A township by flagship Infrastructure (P) Ltd. A
Paranjape Schemes'
Venture.
Property Rate:
At launch,
on Saturday, October 27, 2007,
booking rate of Blue Ridge was Rs. 3,200. Toady, property rate is Rs. 3,500 per sq.ft. for 1st to 7th floor. After that there is Rs. 20 floor rise per floor up to 20th floor. Real estate rate for 21st to 25th floor is Rs. 4,200 per sq.ft.
All types of flats:
2 bhk, 3 bhk, 4 bhk and 5 bhk, all types of flats are available. In tower 2 (2 flats), 5 (3 flats), 6 (4 flats), 9 and 11(9 flats each) and 14. Quantity is not much but looks like that you have some choice.
2 bhk and 3 bhk flats in Tower 2, 5 and 6:
In the Tower 2, 5 and 6, there are 4 flats on each floor. 2 flats each of 2 bhk ( Carpet Area 1,036 sq.ft. ) and 3 bhk ( Carpet Area. 1,325 sq.ft. ). Saleable area of 2 bhk is 1335 sq.ft. and 3 bhk is 1730 sq.ft. If you visit the website you can see the
floor plans and the saleable area
statement.
But there is nothing much to see in a 2 bhk or 3 bhk flat. Plans are typical. When i saw the floor plans for the first time, i was disappointed. I was looking at 1975 model of Fiat car, which is used as a taxi in Mumbai, when i was expecting at least Maruti 800. Paranjape Schemes has served "Limited Rice Plate" of
Suvarnarekha Dining Hall
in
40 piece Bone China set!
2 bhk and 3 bhk Flats in Tower 9 and 11:
In tower 9 and 11, there are 5 flats on each floor. Flat no 1, 4 and 5 are 3 bhk flats. No 2 and 3 are 2 bhk Flats. Generally, we prefer the corner flat but i liked the
Flat no.2
more, which is in the middle. It's small (or compact / cozy). Carpet area, as per the brochure, is only 862 sq.ft. And saleable area, as per the website, is 1,141 sq.ft. I liked the layout of the flat. Because of the layout this flat will look like a 'home'. Position of the bedrooms are at two opposite sides of the flat and living, dinning and kitchen is in the middle. This will give some privacy for both bedrooms.
Personally, i do not like the layout of the flat in which private area and public area is divided into two parts. Like you see in the flat number 3, 4, and 5. First reason is, this type of a flat looks like
"living quarters"
not a 'home'.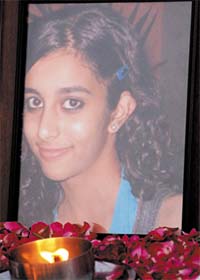 Second reason is, in this type of a flat ( flat no 3, 4 and 5 ), all bedrooms are side by side, they share common walls. You do not get any privacy in these bedrooms. Me and my wife are very vocal in the bed and our son sleeps light. We do not want to disturb him, sleeping in the next bedroom. If we had been fond of sleeping in the air conditioned bedroom then, may be, i would not have mind common walls. But, we do not like an A/C in the bedroom. Those of you who enjoy sleeping in the 'sound proof air conditioned bedrooms', i am sure, must be rethinking about it after watching the details of unfortunate
Arushi Murder Case
of Noida, India.
However, according to the brochure, carpet area of
Flat no.3
is 1060 sq.ft. and as per the website saleable area of this 2 bhk flat is 1,361 sq.ft. Whereas, 1,810 is the saleable area of 3 bhk flats,
Flat no. 4 and 5,
whose carpet area, as per the brochure, is 1,393.
Flat no. 1
is the most unique design i have ever seen. My son, for sure, will like it. In this flat, his girl friends do not have to face us even for couple of minutes before going to his bedroom. Straight away he can take them to his bedroom because we will be sitting in the living room which is not at the entrance of the flat but at the far end. Carpet area of this unique flat is 1,451, as per the brochure. Website says saleable area is 1,814 sq.ft.
Terms of Payment:
Booking amount is Rs. 1 lakh. Within 10 days from the booking you have to pay 10% of the agreement value. Agreement will be done in a couple of months from now. At the time of the agreement, depending upon your flat you will have to pay around 3 to 5 lakhs.
Compare Megapolis and Blue Ridge:
Someone has told me in the comments to compare Kumar Properties'
Megapolis
and Paranjape Schemes' Blue Ridge. Sure, i would like to, only if i could get the details. Which are little difficult to get.
Here whatever comments i have made are my professional expectations. I believe in certain fundamental features should be there in any floor plan. At the same time, there should be enough scope for the home maker's life style in the planning.
I would like to know what you expect in the floor plan. In the comments, please, share your views on these flats or tell us about any plan you liked. To keep this conversation going,
subscribe
to this
Ravi Karandeekar' Pune Real Estate Blog.
To know about my other blogs, please,
visit
my Google group,
Ravi Karandeekar's Pune Real Estate Blog Group.
Feel free to call me on my mobile
91 98600 44110
to share your views or even just to say hello! You can also
join
me on
Twitter!
Contact Blue Ridge:
Corporate Office :
PSC House, Dr. Ketkar Road,
Near Suvarnarekha Dining Hall,
Erandawane, Pune - 411004.
Tel.: +91-20-3022 3344 / 2544 0986 / 2546 2128
Head Office :
Tel.: +91-22-2610 5350 / 2610 5165 - Mumbai
Tel.: +91-0231-6523 055 / 2652 362 - Kolhapur
Tel.: +91-02355-255075 / 6 - Chiplun
Tel.: +91-80-25219911 - Bangalore
Site Office :
Flagship Infrastructure Pvt. Ltd.
Paranjape Schemes Venture,
S.No.173, Near Cognizant Sys,
Rajiv Gandhi Infotech Park - Phase-I,
Hinjewadi, Pune - 411027
Call - +91-020-22934900
Fax - +91-020-22934901
email : contact@blueridge.in
website : www.blueridge.in
Related Stories:
1) Hinjewadi:
real estate investment destination
in Pune real estate market
2
Buy your dream home now:
Experts suggest that investors willing to buy residential properties should not wait. It is better to invest at current levels.
3)
Tech Mahindra plans to have a headcount of 25,000 in Pune
4)
IT/ITeS to fuel realty growth in '08
real estate
Indian real estate
Pune real estate
Pune
news
Pune real estate news
Pune real estate market
Pune real estate market news
Paranjape Schemes
Blue Ridge
Hinjewadi
flagship Infrastructure (P) Ltd.
property rate
Real estate rate
2 bhk flat
3 bhk flat
4 bhk flat
5 bhk flat
1975 model of Fiat car
Limited Rice Plate
Suvarnarekha Dining Hall
40 piece Bone China set
Arushi Murder Case of Noida, India
Kumar Properties\' Megapolis
Paranjape Schemes\' Blue Ridge
Google groups
Ravi Karandeekar\'s Pune Real Estate Blog Group
91 98600 44110
Twitter
Rajiv Gandhi Infotech Park - Phase-I, Hinjewadi, Pune
real estate investment destination
Tech Mahindra
IT/ITes
realty growth
Pune property blog
real estate review
Ravi Karandeekar